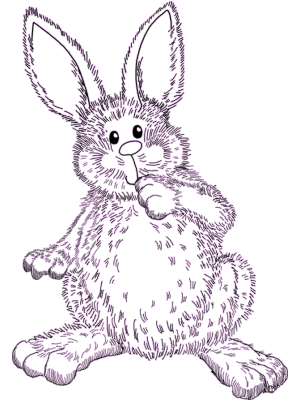 Confessions of a Discount Store Bunny
I am not the real Easter Bunny! About a week ago I was lying face down on a sale table in a major discount store. I was exhausted! I had been stuffed, pulled, licked, pinched, yanked, poked, crammed under forty other bunnies, thrown on the floor, stomped and dropped kicked into Miss Bubble's Bitsy Prancing Ponies.
So I ended up on the sale table, with no hope of anyone buying me when this very strange little old lady leans down, turns me over, looks right in my face and smiles.
"Hello!", she says. What, what? She was saying hello to me? "How are things going?" she says. "You look rather worn and in need of a rescue. How would you like to come along with me?"
Well sure, why not? I tried to smile, but it was hard with the threads on my mouth torn on one side. She nodded, sagely and winked, "I know just the remedy for a sad little fellow like you."
She picked me up gently and we slowly made our way to the check out stand, her singing a little breath song and nodding her head. I was in a sack for awhile and then one day the sack opened and the strange old lady stuck her eye in the sack and blinked.
She pulled me out and shook her head, "Poor little dear!" she said, giving me a shake. Then she was humming again. She told me her name was Phee as she pulled a piece of gum out of my fluffy tail and cut off the crumpled dirty ribbon around my neck. "We are going to put you to rights again, better than ever!" she said.
It was true. When she was through, I was almost like brand new, maybe better because she really did seem to have some magic in her hands. It was almost like, I was a real bunny.
Then the real surprise came. The little old lady set me on her table and said, "Now little one, I have a proposition for you. This place you are looking at is a bit different, well actually very different. You see, we are in what is called cyberspace. Just like real, mind you, but for some reason the Easter Bunny is refusing to visit our little village. So I am thinking that you can be our Easter Bunny."
I felt, surprise. I felt? How could that be? I even blinked, and then I wiggled my new nose and after some effort I said, "Me? The Easter Bunny?" How could I refuse.
There was one problem. I did not know how to be an Easter Bunny. I tried to get some eggs from a hen, so you know, I could color them pretty colors. No such luck. She said they had chickies inside.
Then I saw some white things, but they were mushrooms. I tried and tried but I couldn't find anything but mushrooms, rocks, and weeds and flowers. I was a terrible Easter Bunny. I went to Phee and apologized.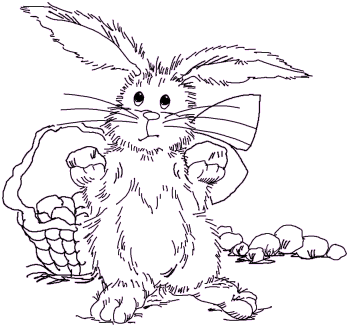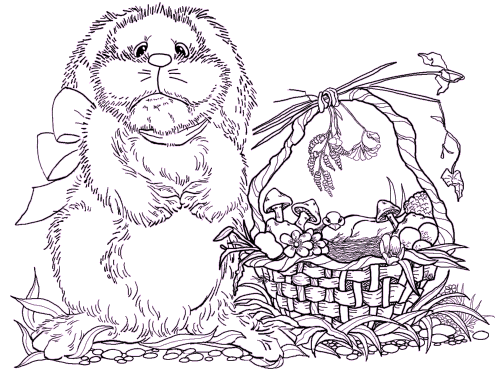 She surprised me again by laughing and said, "Oh dear, you poor little mite. I don't expect you to make baskets, I just want you to live here and every year right about now, I want you to wish everyone a very Happy Easter. My little friends seem to like it when it comes from a bunny." She patted my head, smiling, "Now come along we've made you a very nice place to live."
It truly is a wonderful place to live. I have gotten sort of addicted to collecting rocks, and I spend most of my days happily collecting. Everyone I meet is so happy to see me. I give them rocks and whatever other treasures I find. They don't seem to mind; maybe coming from the Easter Bunny makes it all special.
Happy Easter!