From An Artist's Journal
Nea Wiseman


Winter Newsletter


We are finally beginning to surface after much internal grumblings, both physical and mindful. Someone recently wrote asking why we haven't put anything up since November? Several have written asking for more puppets. I always have to laugh behind my hand just a wee bit when we receive these …summons to duty. It is much appreciated that our artwork is anticipated but it does not always pop out like a candy bar from a machine.

We put up our first Phee McFaddell ten years ago on a lark, to have fun and to see what kind of response we would get to the artwork. In the ten years, over one milliion people from all over the world have downloaded literally millions of art pages from our website free.

Most people simply can not afford to pay for the pictures they download; teachers, librarians, home schoolers, people who work in help programs, charity organizations, rehab and Sr. Centers and probably many of you who download for your own personal enjoyment.

However, if Phee McFaddell is important to you we would very much appreciate your help. Donating just one dollar from your heart, once in awhile would help us keep this a free site. Please use the donate button or if you do not choose to use a credit card or do not wish to use PayPal, donate a dollar to Phee at:

Phee McFaddell.Com
4726 Mt. Royal Ave.
San Diego, CA 92117



A Mystery Solved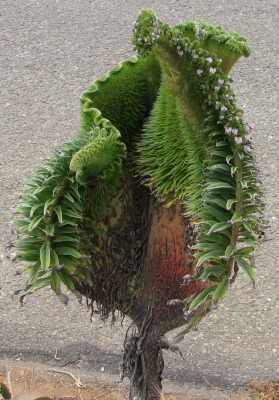 Remember our plant from outer space that we discovered on a road trip to Cambria, California? Laurie wrote to tell us that it is a plant from the family Echium which has fasciated. Oh my! Sounds strange, as strange as the plant looks. We looked on the internet and found many varieties of the species Echium. The variety that grows in California most prevalently and looks like it could be related to our plant is called Pride of Madeira. Now I give you a test. Look on the internet for fasciated plants and be fascinated. You have probably seen many in your lifetime and not known it.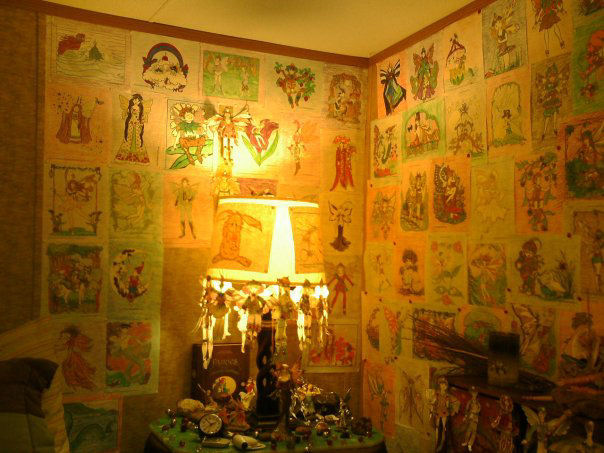 Smiles, All Over

Oh April, we love you. Your room is such a delight, we laughed and cried. Thank you so very much for sharing with us and we hope you don't mind that we have put it up for others to admire.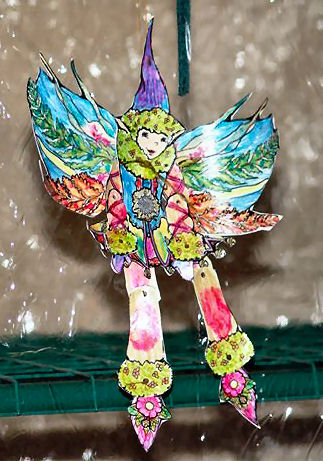 A Sad Day With A Creative Ending

Suzanne in Tuscany writes to tell us of the very painful loss of their precious dog on Christmas Eve. Her three children were devastated so Suzanne turned to the fairies for help. With a book of Cicely Mary Baker's fairy paintings, our fairy doors and puppets they created the beginnings of their healing. And a new puppy is due soon.


I Love Grandmothers

Thank you for your many emails about the fun you are having with your grandchildren playing with the puppets, crafts and coloring pages.


The Great Backyard Bird Count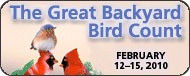 I am looking out my window now at a flock of common house sparrows who come to brunch at my feeder. I know soon we will be seeing a few rare birds on their return migrations. In mid February you can join the thousands of people all over the United States who will be counting birds around their property. There is a website you can go to, The Great Backyard Bird Count and get information on types of birds to be found in your area, when the count will happen and how to transmit your counts.

We Wish You All Health and Prosperity in This New Year and May Love Fill Your Heart.


New Puppet and Coloring Pages

And yes we do have a new Puppet and coloring page! This is Valeria.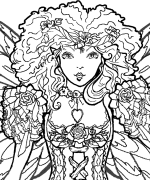 Valeria Fairy Puppet and
Coloring Page


Happy Valentine's Day


Blessings and Love, Nea



The Season to be Merry

Regardless of how you celebrate this Holiday Season we wish you an abundance of happiness, peace and love. May you find a miracle in the small, the gift of wonder in the ordinary.



December's Coloring pages and crafts.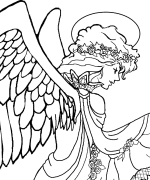 Christmas Angel
Coloring Page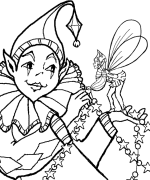 Clown and Fairy
Coloring Page

Clown with Star
Coloring Page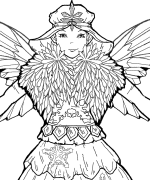 Ice Fairy
Puppet & Coloring

Kella Puppet
And Coloring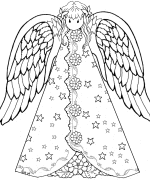 Cone Angel
Craft Project

November 2009


Gratitude

Phee McFaddell.com is known all over the world. We have colorists and crafters from many countries that all share one thing in common, a love of arts and crafts. I often think it is too bad that artists are not invited to participate in our governments decisions, especially now that the reasoning mind seems to be suffering problems so huge that only the intuitive can help find the creative answers that will show the way to keep this world going. This probably will not happen but I have one thing fixed in my heart. That no matter what country you live in, what the politics and beliefs of your country might be, we will always meet in friendship and understanding of values that transcend the ordinary, the love of art and its ability to speak any language. We are grateful to all of you for receiving us with such enthusiasm.

Check out the new projects sent to the Kid's Colorings. Super well done, thank you for submitting your work.




Brian
Puppet & Coloring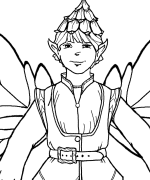 Talin Fairy
Puppet & Coloring

Edain Fairy
Puppet & Coloring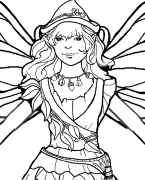 Green Celine Fairy
Puppet & Coloring


Our four puppets for November are Forest Fairies of a hunters/gatherers clan. There harvest is in and put up for the winter and now it is time to celebrate. We pray that your harvest is also in for the winter and that you will be safe and warm, healthy and well fed. If you know someone who is having trouble meeting their harvest needs, it is time to let go a little and give.

Happy Thanksgiving!

P.S. If you haven't received an answer to your email, please email again because some we have not been able to answer, probably because of a typo, but we want you to know - if we can - we will always respond.

October 2009


Halloween Costumes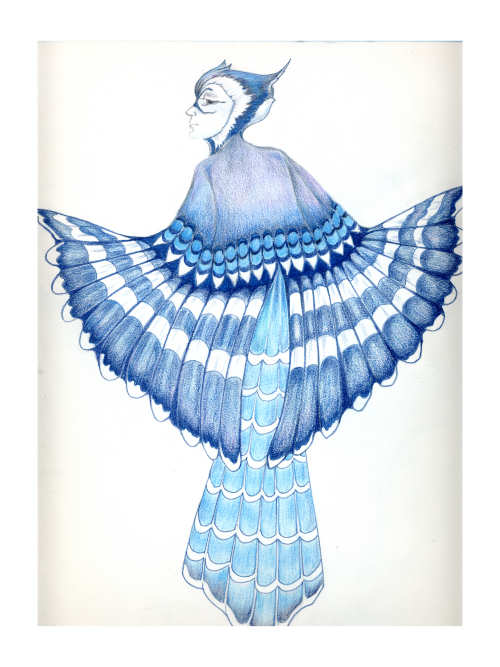 This costume was inspired by a photo of a Blue Jay whose penetrating eye seemed to say to me, well aren't I just the most beautiful creature you have ever seen? Yes! I responded. I want to dance in your feathers! Float down the street, my wings lifting in the crisp fall breezes. View the world for a short time hidden behind the illusion of birdness.


How fortunate we are to have the opportunity to try on different masks, to be magically powerful or physically strong, to have fairy-like grace or be wicked scary, or an alien or angel. It is obvious that some of us never quite outgrow 'dressing up', even those who will not admit that their Tour de France bike riding outfit really does enhance their self image and therefore their speed, or dramatic make-up, green hair, and nose rings do send the message that we are in protest. Click the mask or here for the New Halloween Pages.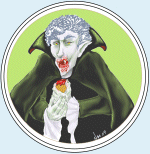 Our Fall story is about a man who liked to dress up as a Vampire and got a little too identified (with the help of a witch), with his Vampire costume. Best to be careful when going out Trick or Treating to stay away from witches and have a care! Not all witches are ugly with warts. Click the image or here for the "Sugar Vampire Story".


Halloween Coloring Pages


The VC Crew
Coloring Page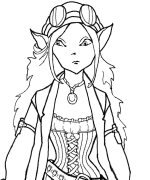 Blood Drop
Coloring Page

Frost
Coloring Page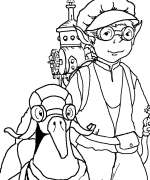 Wee Willy
Coloring Page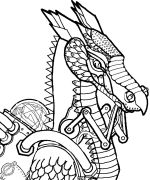 CLAWS
Coloring Page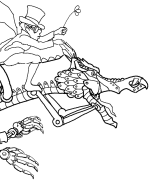 The Melee
Coloring Page


Professor
Coloring Page

Willamette
Coloring Page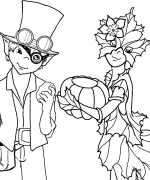 Snail & Nessa
Coloring Page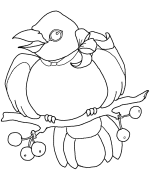 Little Crow
Coloring Page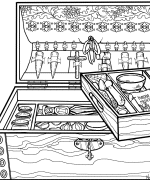 Satchel
Coloring Page

Fritter
Coloring Page

October 10, 2009



We will all be wearing our new logo T shirts (CLAWS has kindly loaned his image to this), as Phee is sponsoring the ride, along with our many generous friends and family, we thank everyone for their help as all three of us have exceeded our fund raising goals.




The MS 100 Mile Bike Ride.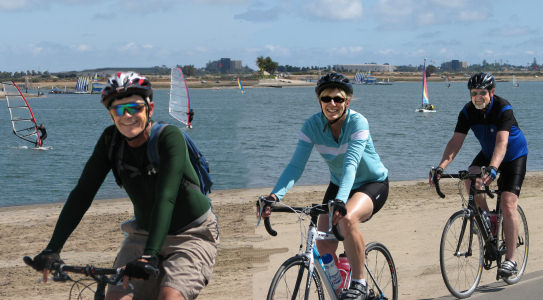 Marshall, Daughter Kim, and her Husband Terry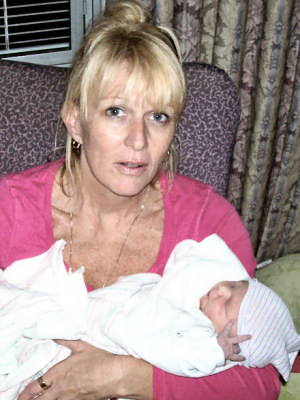 Stacy and her Grandson Sam One of our daughters, Stacy has Multiple Sclerosis. It is a terrible disease that for some unknown reason causes the immune system to attack the insulating cover of the nerve cells in the body. This damage creates havoc in the electrical signals that are transmitted to the body's organs, muscles and functions.

There is no cure at present and we as a family are exploring every way available to help Stacy. One way is a 100 mile bike ride to help raise money to cure MS. Marshall (the wonderful webmaster of Phee McFaddell and my husband), and other members of our family are now in training for the ride. Each person who participates must be sponsored with $400 in donations. So please help us by donating to this worthy MS research and sharing our prayers for Stacy, who is now having to undergo chemotherapy to try and stop further damage to her body.

Information about how to donate can be found here.



The Great River Adventure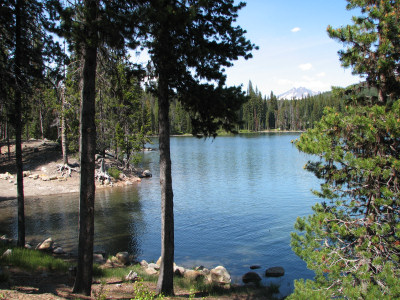 Click to enlarge We had an awesome vacation! Magic was wondrously alive from high in the snow topped mountains (yes, even in early summer there is snow on some mountains), to the great forests dripping pure sweet nectar (called rain by some people), to meadows of wild flowering buckwheat, phlox, marsh marigolds, pussy paws, heather, mountain laurel, and oh!, so many more, all joyously dancing in the soft early summer breeze. Water flowed everywhere. Crystal clear cold snow melt, slip streaming through luminous green mosses and ferns, bursting into falls along the trails and roads, resting in the vast bowls of ancient volcanos and running deep and mysterious in massive rivers. It fed our eyes, our hearts and our spirits in every step and turning.

We would love to have you to tea someday to share more of this adventure, but for now I will share one experience that will stay forever in my memory, a river float on the great river, Deschutes.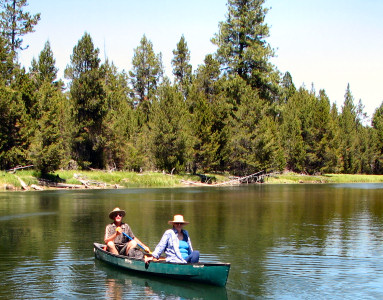 What a fine day it was! The air was soft and so clean I never sneezed once. The sky so blue you could put your finger up and finger paint. The earth smelled like peppermint taffy with a dusting of pine pollen and so much energy poured up I floated down the path leading to the boat launch.

The river Deschutes was about 100 feet across at our point of entry, but it widens and narrows many times in its 200 mile plus journey from Little Lava Lake to the Columbia River. This section was an easy current to float along in a canoe for a few miles but before long one came to a waterfall and some flashy rapids which might have been fun another day.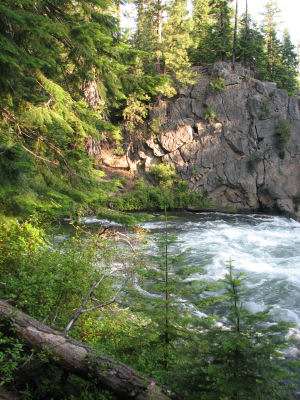 Click to enlarge Our group was there to enjoy an afternoon float and a picnic along the way of course. To our surprise there were more than humans enjoying the river that day. All rivers are two, the one humans see and experience and then its great essence where beings of less density live and experience its personality. We made a nodding and polite acquaintance with several of these wondrous beings and even shared our picnic spot with an otter who was a masterful rower and he pointed out all the places of interest. I have drawn a few pictures of these delightful beings for you to color and one extraordinary swan boat to color and craft.



Click to enlarge It is amazing what will float on water. We once bought some large plastic swans from a garden shop, painted them black with bright red/orange beaks and Marshall put ballast, his lead diving weights, in the bottom section to keep the swans upright in the water and then I filled them to overflowing with flowers and we floated them in a pool for one of our daughter's wedding.

What can you think of that will float on water? There are many good sites on the internet and books at the library to give your inspiration many clues. Can you draw a picture of things that float? I would love to see your pictures and hear your ideas.



New Coloring and Craft pages!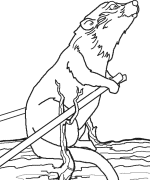 River Otter
Coloring Page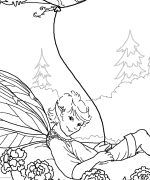 Tube Float Moon
Coloring Page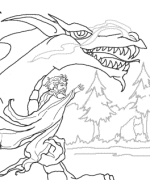 Syril Sivertooth
Coloring Page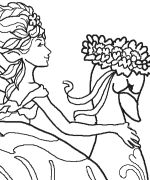 Swan Boat
Coloring Page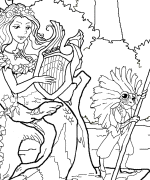 Mermaid Float
Coloring Page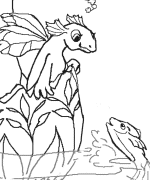 Gourd Float
Coloring Page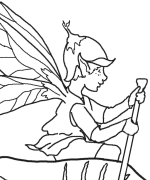 Goose Float
Coloring Page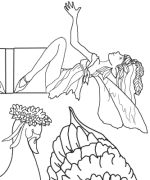 Swan Boat
Craft Page

Midsummer Night's Dream


My apologies for not including another to color segment of the story. As I originally stated, it is a work in progress and I will add to it in and amongst all the other stuff that goes on, so don't surprised if there is a long pause while we do the Halloween and Christmas pages. You can find the bards story here!

Your Work

What a delight to receive your wonderful color work and ideas! I was especially excited by the beautiful ribbon work on the puppets done by Misty. Thanks for sharing Misty, this should be a fun new project for those of you who love the puppets.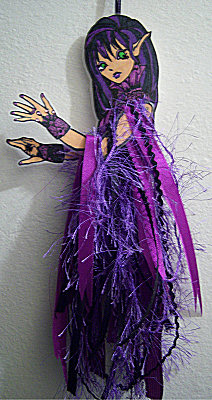 Thanks also to Eric for sharing his very own original fairy drawing. Great work, Eric! I am so happy to see you doing your own creative work. See Eric's work here!

To see more of the color work done by you go to Kids Coloring.



Strange Alien Plant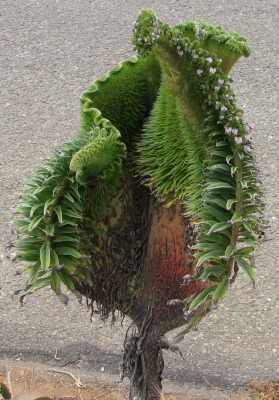 This strange alien plant was found in Cambria California. It is believed to be the first sighting in that area for twenty years. Do you know what it is? If so please contact Phee.


Summer 2009


Off On A Vacation



Wart and I (along with a small filming crew) are off on vacation.
We will head north, to start with, now that the winter is over.

Before I go I have a wonderful selection of puppets and fairies inspired by
the work of none other than William Shakespeare and his play
"A Midsummer Night's Dream" that I have been working with all winter.

There are four new fairy puppets from Oberon's forest and four courtiers
from Titania's entourage. All of them will be fun to color.
(If you can read the play they will be all the more fun.)

So Wart and I are off on our journey to discover new and wondrous images and ideas.

We will see you again in the Fall.

Fairy blessings.

Phee



Spring 2009


Meeting On The Web


Drawing For Days And Days


I have been drawing for days and days … … and days! And now finally it is time to put the pieces together and meet each of you through the medium of the great web.

I do think about you while I draw, wonder about your lives and sometimes how my drawings could possibly make a difference (I hope they do in some small way). Especially now when the Grimspinners (those who smile cheerfully while they tell us bad news), are labeling these, 'troubling times'.

Hmm, do the times not always have a certain element of trouble to them?


Look at poor Hermia, living in a far off time when fathers owned their daughters like a fine horse and decided when and who they could marry (sadly, this still happens in some cultures). Hermia is not as docile as a trained animal though.




Look at Lysander. That is the look of a lovesick puppy. Is he in love with Hermia? This is very bad news, because Hermia has been promised to Demetrius.
If looks could kill, Lysander would be laying stabbed in the heart at Demetrius' feet for even thinking he could have Hermia.

This is trouble! And Egeus, Hermia's father, is not having any of it! He begs an audience with Theseus, the Duke of Athens to resolve this crisis.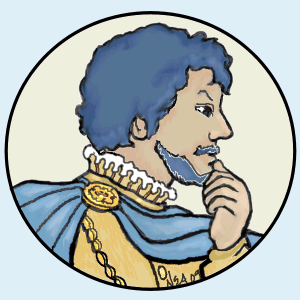 What will Theseus, decide about Hermia's fate? How can this trouble possibly turn out to benefit love?

The first installment, Act One, Scene One of The Midsummer Nights Dream are four coloring pages. I will focus the puppets on the scenes that happen in the forest, when the 'dream' begins. I am not including a script of the play as you can find a copy of the play and synopsis on the web, at your local library or bookstore. If you are interested I encourage you to get a copy.



Coloring Pages and Puppets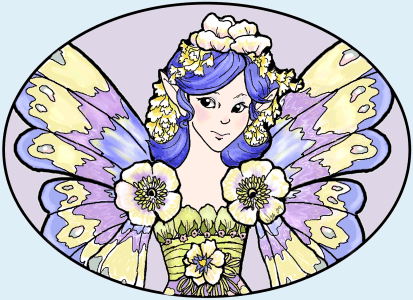 Some sweet little voices have been begging for a new puppet and suddenly, to my delight, Lilah appears. I know it is hard waiting because I have to wait too. Then like a miracle, an image appears, full of invitation and energy and I do my best to draw it as it looks and feels. This is only a little right, for once the drawing begins in the physical world, it is hard to hold onto that ethereal beauty. I liken it to trying to hold water in my hand. So your imagination is an important and mysterious element to this process.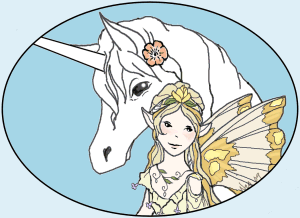 To my surprise, I was also gifted with the image of a unicorn puppet. The wee fairy riding him is named Mitie and I know her well as a visitor from time to time. Someday I will tell you how we met.


You will find three new bunny drawings on the coloring pages. Since we are not able to put up pages every month or follow holidays closely, we have decided to follow the seasons, winter, spring, summer and fall. For all the newest coloring pages click here.


We are trying to save money to print another coloring book and your donations would help us. If you enjoy receiving the puppets and coloring pages please send us just one thank you dollar through PayPal or to Phee McFaddell 4726 Mt. Royal Ave. San Diego, CA 92117. Your help will be greatly appreciated. You can also use this address to buy something from Phee's Marketplace or send a letter, drawing or photo. We love to hear from you!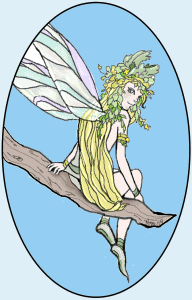 We recently took a trip to St. Augustine, Florida to meet our new Great Grandchild, Beautiful Sam. We visited and walked the wonderful park where Sam's mom and dad got married and as I often do I wandered off by myself and saw this tiny fairy. She was a little bigger than a bird and she felt my attention and looked at me with a shy smile. Then her image receded and seemed to vanish. On returning home and looking at our photos, her image returned, sitting on a flotsam stick by a small pond, resting a moment in her work.


The eternal message of Spring is about to move the world. Do not let those Grimspinners get the better of your good sense. If life seems to be getting you down, reduce your focus, to the small, the incredible miracle of Nature renewing Herself in the tiniest sleeping seed. Listen carefully to the change in the bird song, the smell in the air, the feel of stirring life. In every experience there is creative opportunity but you must have your eyes and your heart open to find it. Our blessings and thoughts are with all of you, and our gratitude for allowing us to be a part of your creative lives.



Nea and Marshall and Phee



February 2009


Work In Progress


A Midsummer Night's Dream


In 2008 I began to write the story for a puppet series of Shakespeare's
A Midsummer Nights Dream.
I held it off because of the Holidays but you can now find a New Section that will be devoted to all the Midsummer Nights Dream puppet characters with a lively dialogue from Phee.
If you begin a folder I will soon have a cover for you to paste on.
I love your feedback so please write to us with any questions or ideas for this series. Hopefully we will have all the puppets done by Summer 2009.


Recommended Reading for Valentine's Day

Wildwood Dancing by Juliet Mariller:

It is the story of five sisters living in the ancient crumbling castle, Piscul Dracului in Transylvania who find a portal to Fairy in a shadowed corner of their bedroom.
Every full moon the girls sneak away, crossing the 'bright between' in wondrous fairy boats to join the magical swirl of color and music, dancing the night away with the beautiful and strange beings of Fairy.
The companion book, by Juliet Mariller is also about this family and depicts the sister and scholar Paula traveling with her merchant father to Istanbul during the early Ottoman period to try and purchase an ancient Goddess statuette.
Again, there is great adventure and intrigue brought about in part by the Fairy working toward their own ends.
These are perfect Valentines books, beautifully and innocently romantic and yet full of adventure.



New Coloring Pages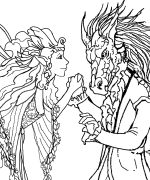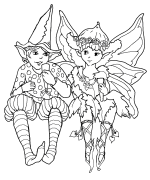 The new drawings are part of a fairy celebration. You will notice that three of the drawings are enlargements from the Refreshment Arbor coloring page.

I thought it would be easier for some to color.


New Fairy Puppet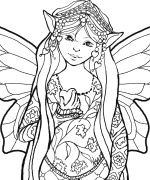 The Heart Fairy puppet, is a way we are trying to make the figures with long skirts free standing.



Commitment of the Heart


Deepak Chopra, one of the truly wise and loving men of our time, has invited the Human world to look into their hearts and make a serious and sacred commitment to Non-Violence, in their thoughts, speech, and actions.

You can log on to www.itakethevow.com to join the thousands who have already taken this vow. (I renewed my vows, for I made this commitment many years ago.) Then pass this information onto at least two other people and encourage them to take the vow.

Deepak Chopra's goal is to touch the hearts and minds of 100 million people and through each vow of nonviolence create a shift in consciousness to world peace, harmony and love. Isn't it what we all truly want?



Friends


Marcie's Garden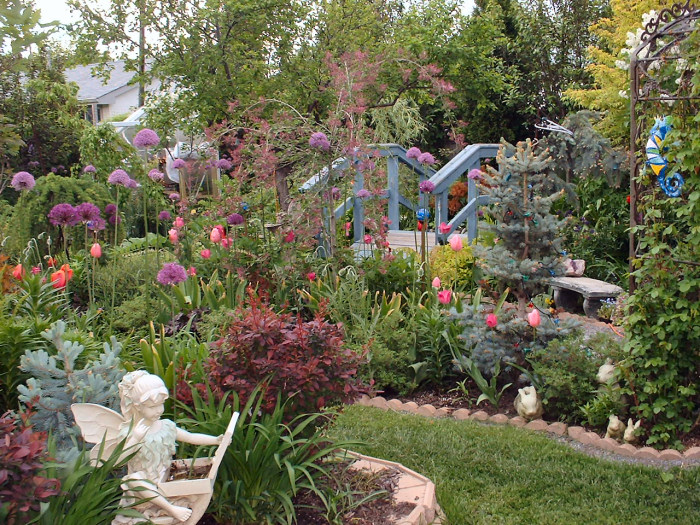 Marcie sent this photo of her 'fairy garden'. It is probably under snow right now sleeping and dreaming of new Beginnings. Oh so lovely for those of you who live in the cold climates to see and dream of too. Thanks Marcie.




Gina's Artwork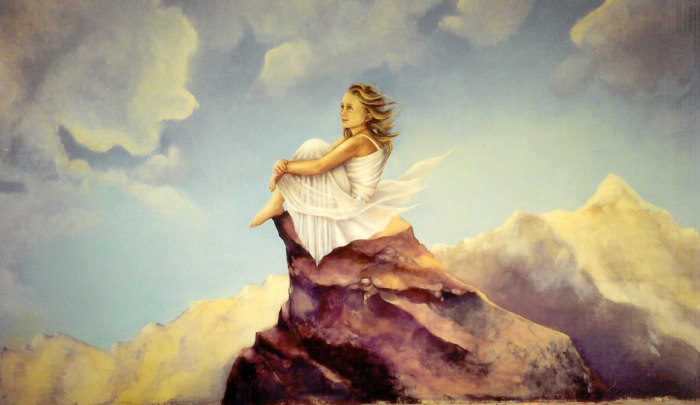 Our friend Gina is an artist in the San Diego area who does wonderful Trompe L'Oeil, Murals and Faux finishes. The photo is of a wall mural with a portrait of the young girl whose bedroom wall it is painted on. Thank you for sharing this beautiful painting Gina. I have known Gina since she was a wee babe and it is wonderful to see her progress as an artist. You can see her work at www.ginafaulk.com



Our Young Colorists

Thanks to two young colorists Sami and Sara from Manitoba, Canada, for their beautiful work, that you can see here.


December 2008


Phee's Marketplace
Has Something New and
Wonderful


We are very pleased and thankful to announce that Phee's Marketplace is finally open.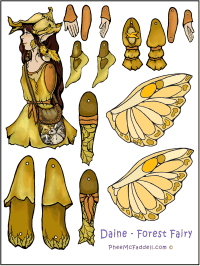 Those of you who have requested high resolution colored prints will be happy to find full color Paper Fairy Puppet kits now available for sale, each with a set of brads, ready for you to cut out and assemble.

Cards and prints from the World of Phee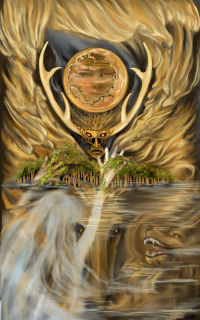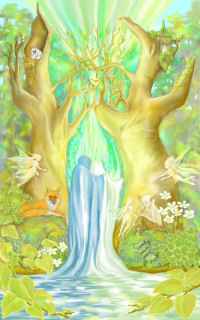 Large cards and prints are now being offered
from artist Nea Wiseman and more will be added to as time goes by.



Never fear! We will always have new coloring pages , crafts and stories to download for your personal delight and wonderment.

Thank you so much for your love and support.

Phee McFaddell


New Craft Projects
Our little fairy gets to fly anywhere you hang her up.

Just attach a silver thread to her center ice crystal headdress and let her fly!

Crafters have been enlarging our drawings and coloring them and then printing them on Shrinky Dink.

This product is available at craft stores. Colored pencils work fine on it. The shrinking process requires an oven or toaster oven or hair dryer and should be done with adult supervision.



Fairy Door When I first saw a fairy door I had to make one out of Sculpy, although the fairies have already found many ways into our house, drawers, closets, art supplies, food and oh my, what else? If you want to make a Sculpy door or one of wood, use the drawing as a template or inspiration. Just follow the directions to use the paper door.

As I say, 'the fairies will know how to use it'.

I was thinking and dreaming about putting a tiny tree and some little fairy treats by the door, what do you think?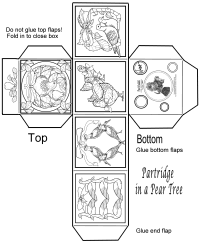 Christmas Box The gift box theme this year is Partridge in a Pear Tree. Sorry I couldn't get the whole song on it. Maybe you could put a little accordion pleated strip inside with the song.

Along with our three new Holiday Drawings we've enlarged three of the 'Partridge' drawings for you to color.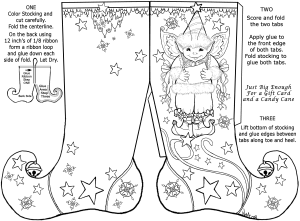 Elf Stocking The Gift Stocking is not strong enough for a lot of goodies but one candy cane and a gift card will give good cheer.

It would also make a fun decoration.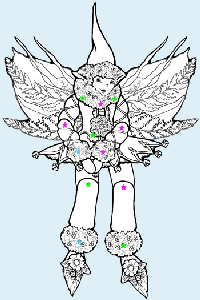 Fern Feather
Elf Puppet I have several of these little elves with the fern and feather wings in my house.

They are made of felt with tiny sweet faces and crystal eyes. They pop up just about – everywhere – and make me smile. It is funny though, most visitors to our home do not 'see' them, and we wonder why more people can't see fairies! Hmmmm?


Have fun making this one.



Phee's Community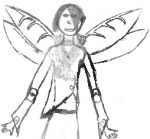 Kim You will find two original lovely sketches for Fairy Puppets by Kim in our contributor pages. Kim is working hard to become a very good artist and we thank her for sharing her artwork with us.



Hannah Hannah has also contributed her beautiful coloring of Melody with some of her own design around it. Very Nice!

Thanks Hannah.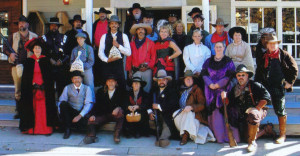 The Hole in the Sock Gang Lady Rose sent us a picture of The Hole in the Sock Gang, McGregor Iowa, actors who street perform in her town.

They also give parties for the kids and recently used some of Phee's craft projects for their Halloween Party. Thanks for letting us know Lady Rose.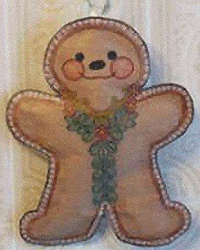 Gingerbread Man
GIRL GUIDES
Marilyn sent this version of our Gingerbread man that her Girl Guides group made for Christmas. Marilyn enlarged the pattern and printed it on brown wrapping parcel paper. The girls colored the features with colored pencils and cut them out. Then they glued one side and used gently pulled apart cotton balls to fill the center, leaving a border to glue together. A hanging ribbon was attached with a little more glue added and then the two pieces were glued together. It makes a great project and easy for kids to do.

Thanks Marilyn, for sharing this.



Many thanks to all of you for being a part of our creative lives. We hope that during this season, inspiration soars through your fairy door and makes your toes twinkle and the corners of your mouth twitch up in delightful and secret smiles. There is hidden beauty in everything … just look for it.
Happy Holidays!

Nea and Marshall Wiseman



October 2008
Into the Olympic Rain Forest


We have just returned from a trip to Orcas Island and Victoria B.C. Then into the Olympic Rain Forest, my new home in my head, wow! I met many wondrous creatures there who have come home with me in image and will soon be seen by you.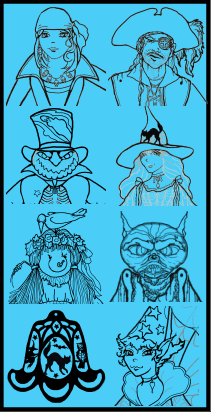 Seems to me we have enough fairies and pirates and scary ghosties to have a Halloween party! Last year I drew those little fairy lights for the fairies to dance under in the story of the Floating Head. For some reason I just had to do something more with them (it is a kind of enchantment), so last spring I enlarged them and printed them out on a variety of bright colored cardstock and outlined them in gold and hung them at intervals on some sequin trim for my booth at a craft show…..very pretty!


So, here we are at Halloween again and I was looking at those little lanterns thinking, wow those would look so cool with witches and bats and stuff drawn on them. And you could take these drawings of the lanterns and print them out on colored card stock or just color them and outline them with gold or silver, or glitter and hang them on ribbon or sequin trim. Then cut-out some Halloween puppets and hang them up too.

If you go to the Guest Book page you will find some beautiful new colorings by Laurel and Maggie. Great job Kids!

Believe it or not we do experience Fall in Southern California (even Northern Californians won't believe it!). The air does soften and take on the subtle archaic smells of the dusky old Mother. If you are sensitively attuned you will note that for a short time the earth music is just slightly arrhythmic as She relinquishes her hold on the hidden patterns allowing new lines of energy to flow in, an energy gift that is available to each one of us. It comes into our being as easily as fruit, grains and nuts ripen. So be aware and don't squander its value on stressing over anything. Just breath it in and go can some peaches, or knit a scarf, or write an epic.


Happy Halloween!

August 2008
Midsummer Night's Dreams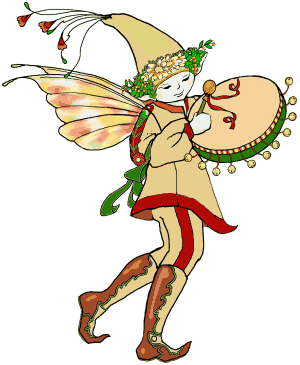 The Education Director of the Shakespeare Festival in St. Louis sent me a big thank you for the fun the children had with my puppets this year at the St Louis festival. He has asked if I could do a series of the characters from Shakespeare's Midsummer Night's Dream. I am interested, are you?

Well, there are some fairies in this play and the characters are delightful. Let me know what you think. Oh, and thank you Chris for the idea.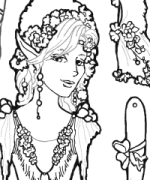 Mystie
Fairy Puppet This month we add Mystie a beautiful fairy Puppet I think you will enjoy!

Marshall and I spent a couple of lovely days at Comic-con visiting with so many amazing artists. It is always inspiring and informative to see other artist's work and to talk to them. My biggest thrill (really, I was thrilled almost speechless), was meeting John Howe who created and inspired most of the wonderful design art and architecture in Lord of the Rings. He is a gentle spoken man of great character. It was a real privilege to have met him.

I just made my first attempt at a 'comic strip'. Last year we met Jennifer Carson (The Dragon Charmer), at Faeriecon in Philadelphia. Marshall, who is such a great wonderful kid at heart, fell in love with her wool felt dragons that sit on your shoulder and he brought one home to live with us. Jennifer's wool felt creations have so much personality they can carry on a conversation with you! The dragon slowly (heh-heh), made its way into my studio to help me draw and have an occasional conversation with me. Shhhh, I have named him Stanwick, Marshall doesn't know yet.


Phee Pop

The idea for a comic strip came to me one day in a Phee pop, sometimes this happens. Inspiration comes fully loaded with energy, images, and potential. What I do with it is the fun part and the hard part. Well, doing art is work and sometimes hard work but always fun too.



Comic Strip Stanwick took on the guise of Jennifer and we had a great time extolling the magical wool dyeing properties of Kool Aid. Of course, anything that has to do with Phee is not going to turn out much like the Martha Stewart show or go as planned, which is fine with me. It's more fun when Phee does it. Phee just sort of takes over and away we go. Jennifer generously agreed to the idea and offered directions and a free pattern for a dragon ornament for you to make, plus the real recipe for Kool Aid felt wool dyeing.

Thanks Jennifer!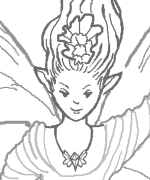 Tamba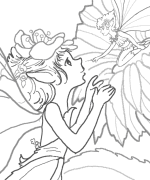 All sizes
shapes and colors

Finally Phee adds two new fairy coloring pages with Tamba and a coloring page called "All sizes, shapes, and colors". We know you will enjoy both.

For the Comic Strip, click here.

For the dragon ornament pattern and Kool Aid directions, click here.

For this months fairy Puppet and new coloring pages click here.

Look in the summer 08 issue of Faerie Magazine for my fairy puppets in color and an article by Jennifer with one of her fiber arts projects.

July 2008
Midsummer Message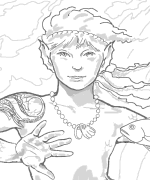 Morven
Child of the Sea
I am having wonderful day dreams lately and I share them in part by the drawings we put up for you to color. Morven, a child of the Sea is a gentle lad. I respond well to what is gentle and wise in the heart. Someone else can do the scary monsters and endless evil plots.

Since Morven is manifest in a drawing, think of him as a very real being who you happen to meet while swimming one day. Everything we need can be managed in the imagination. Morven has a special breathing tool that you can use to go down into the sea. With great pleasure he will show you all the wonders of his home, carefully guarding you as you slip through branches of seaweeds and rest on the lip of gorgonian fans (look it up on the internet), or come face to face with a large fish.

The language between you will be of the heart, a language of love for all things living, including you.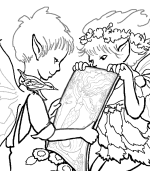 Teasel and Twila
With a Magic Book Teasel and Twila have found a magic book, oh my!

This was so exciting when it came up I would have liked to dash off with the images, hole up in a wonderful cave full of mosses, sip nectar from a sausage tree pod and dream their adventures. They are looking at one of the drawings in the book that moves and swirls and becomes words when you ask the right questions.. What is that mermaid doing?

This is a quote and I apologize to the author, I can not remember his/her name.

The only people who are truly free are readers.

This is one to think deeply on. How can it be? And yet, I know when I pick up a book I am transported to another reality, over and over with each book. There are adventures, wonders, characters and creatures that you become through your mind and imagination working together. And you discover that the space you live in, which may have seemed tiny and sort of gray begins to expand with shafts of light shining on a vast world of incredible possibilities. Be brave, take a chance and find the magic in a book.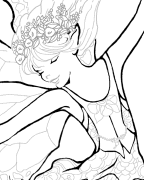 The Morning Glory We have a large Morning Glory plant growing at our front entrance. It likes to send out its tendrils and snare the postman's satchel and I can hear the fairies giggling at him as he grumbles and bats at possible spiders. I go out now and then and with a profound apology to the guardians of this prodigious plant I snip tendrils. I am seriously thinking of one day letting the fairies have full reign and weave the front entrance shut. It delights me to think of it. Now, see there! The beginning of another story. Of course, the postman will hate it!

For a look at all my coloring pages click here!

I want to thank those of you who have sent us such wonderful e-mails. We love hearing from you and knowing the drawings and stories are giving you pleasure. Thank you.

One not so fun note. Some people are using my art for purposes other than coloring and personal enjoyment and possible inspiration. Some even ask to use it for other reasons. I will no longer give permission for any use other than coloring and personal enjoyment. The only way these pages can be free is if you as a public honor my work and protect my copyrights.

Nea Wiseman



January 2008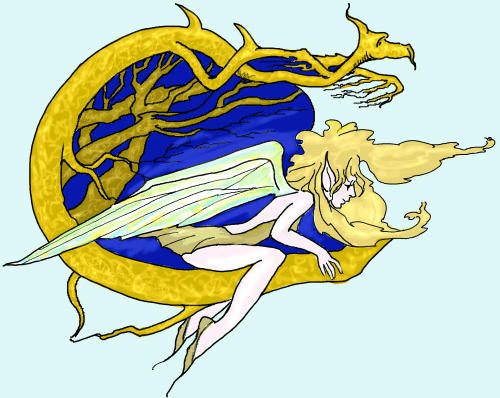 New Year's Greetings


We have a special New Years request. It has been suggested by a few people that we put ads on the website. I won't even consider it. However, if you have been enjoying our pages we would be truly appreciative of a small donation. You will find Donation Buttons on the website. There is absolutely no pressure concerning this request. We love doing the pages and love your interest and participation, so make your own choice, please.


My drawings to color for Jan/Feb are three very different characters.

Baile The
Romantic Poet Baile is an 11th century Celtic prince who was much loved for his sweetness and his poetry. He was called Baile of the Clear Voice. I think more because his work came from his heart. I felt he represents the best of Valentine lovers.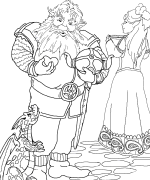 Puppy Love
Puppy "Dragon" Love

Puppy Love is about the closest I can come to doing a tough guy drawing (sorry). Maybe it's because I like gentle sweet guys.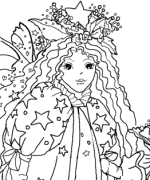 A Secret Valentine
Coloring Page
When I was young, valentine cards in our house were a big secret, never signed and always found in some surprising location. Then you could wonder and dream of your secret valentine for several days, cherishing the card or small gift and when you got older you could carry on the tradition. And remember, never tell……….not ever! There is something very thrilling about leaving a mysterious card or gift for someone and knowing the secret. I think it also teaches us to be giving without asking for anything in return.


OOO XXX (that means, Hugs and Kisses)
HAPPY VALENTINE'S DAY



December 2007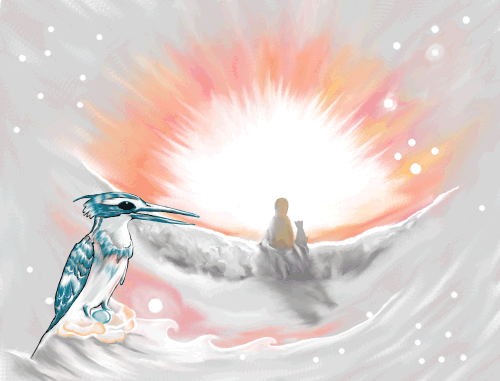 Halcyon Days
In ancient times there was an observance known as the Halcyon (Hal ' se – an) Days in the month of December. It was a time to recall and create a sense of well being and peace. In our time the Halcyon Days have been absorbed and renamed by religion or lost under the increasingly hectic demands of the commercial holiday season.


Halcyon Days begin the week before the Winter Solstice (Dec. 21st), and end the week after. The days are meant to be a time of calm, peace and tranquility and these meaningful descriptions certainly go beyond all cultural differences and religious beliefs.


There is a very old myth of a goddess named Halcyon, the daughter of the God of the Winds. Halcyon married a mortal named King Ceyx, who was drowned at sea. Halcyon was so sad she threw herself into the sea to be with him. Taking pity on the couple, the gods transformed Halcyon and Ceyx into Kingfisher birds. These birds were said to mate in the winter, charming the sea into a calmness so they could protect their eggs in the floating nests of the bones of the past. This is not an uncommon idea, for it symbolically speaks of an old way that still has the ability to participate in the protection and nurturing of new life.


The Winter Solstice is the time when the sun is so far away, its warmth and light seem to be gone. This is called the longest night and many cultures burn great bonfires all night, some throwing tokens into the fire, of things they are sorry for, or wish to end, and wishes for new things to come into being. A miraculous and yet well known occurrence happens on this night. The Sun at its farthest point away suddenly begins its journey of return, to bring light and warmth back into the part of the world it seemed to abandon. (To those of you living in New Zealand and Australia this would happen at the Summer Solstice –although you can most certainly participate in the Halcyon Days in December).


Since the Winter Solstice is central to the Halcyon Days, this whole time is truly mystical and should be observed as a unifying ideal by all people everywhere regardless of their personal beliefs or observances, as a time to reflect on the meaning of peace and to make every effort to help bring it back into the world.


You can still get presents!


The Twelve Days of Christmas actually begins on Christmas day and ends on January 5th, …..so maybe you don't have to try so hard to get it all done before that day, but consider it many days, all with a deeper meaning. For peace and calmness to prevail we sometimes have to think, see, and try things in a new way.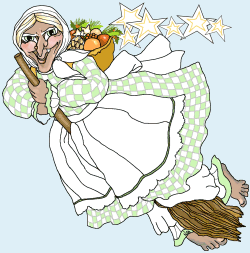 There is a story in Italy of an ancient wise woman who delivers sweets and fruit to the children on the 6th of January. Her name is La Befana and she is called a Witch or an old Crone but no one to my knowledge has ever really seen her face. Since she is very ancient she may be one of the Goddesses still surviving in disguise. There is a coloring page of La Befana in her witch's costume delivering goodies to the children.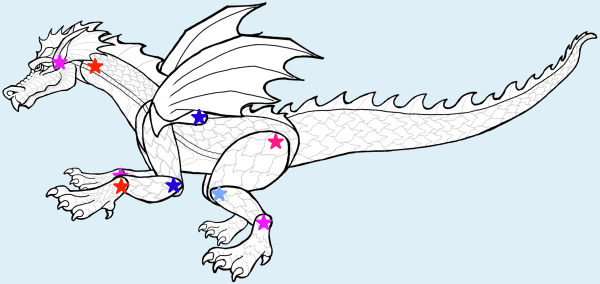 Yes, there is a dragon puppet this month. You ask, why a dragon? Well a very nice school teacher asked for one for the boys in her class. They have a castle theme and were very much in need of a dragon, I guess to guard the fair maiden in the tallest tower.



Ice Princess Puppet

We tried something new making a puppet top on a cone base. She is an ice fairy on her way to the Ice Kingdom Ball. Years ago I wrote a story about an Ice Kingdom for my children. One day I will tell it to you. In the meantime, think of what an Ice Kingdom would be like…don't let your imagination freeze up.


There are some labels that could use more decorating. Before you cut them out try outlining parts of them with a silver or gold gel pen, or some glitter glue, even a crystal here and there and some fine thin ribbon. Try embellishing the little gift box and the snowman and snowmiss too.


Whatever you decide to do we hope you have a great time doing it. Write and tell us about it, we love to know what you are doing. Have a wonderful holiday and whatever your beliefs or observances, we love you all.


Nea and Marshall


P.S. As you might have noted from the drawing at the heading of this, Phee and Wart have taken a cosmic journey for the season and will return for the Spring Equinox.



November 2007
We met lots of new human and faery friends at the Philadelphia Faery Convention but as I've said it felt a bit strange to be wandering about in a great warehouse of a grey building all alight with fragile wings, bright flowing costumes and wonderful booths full of faery goodies and art. I am sure it is an experience the building will never forget! One day a sensitive intuitive person will be there for some dreadful boring conference and the very walls will be begin giggling with faery memory! Now isn't that a lovely thought?


Many of the great faery artists and writers were at the convention to greet us and autograph books and pictures. Probably the most world famous and prolific artist of current faery lore is Brian Froud, who along with his equally talented wife Wendy were the guests of honor. Also there was Kinuko Craft, Jessica Galbreth, Linda Ravenscroft and Linda Biggs. You can view all these faerie artists work on the internet along with many other wonderful talented people. Most of all though, were those wonderful magical creatures fluttering and dancing around, some telling stories, others the stories themselves, all certainly giving the heart a joyful lift.


I am inspired by all this stirring contact with so many faerys and a wee bit of a story is trying to pop through, so back to work I go! See you in a few weeks with some new pages.
Your Friend, Phee



September 2007
Phee is going to the Faery Convention in Philidelphia!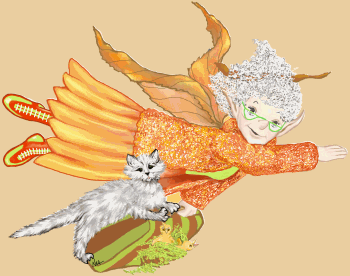 Never thought I would see the day when a bright of fairies gathered in a city convention center to meet! It sort of gives me a chill, but then everything is a bit strange these days. But I will happy–up fast enough when I land in the midst of all that fluttering beauty and grace. Humans are most definitely invited to these gatherings so if you live in Philidelphia or have the means to get there we hope to see you. For more information: www.faeriecon.com


We won't have a booth this year, we are going to feel it out, as the saying goes. If we like the idea in person we may decide to do a circuit in 2008. I will be giving you a report on the Faery Convention when we return in October.


Getting ready for Halloween


Now, to the pages. We have combined September and October pages for Halloween as we will be gone long enough to make it difficult to do two months. The instructions took some time as all the new puppets are a bit different from each other and I thank Marshall for his hard work.


Then we will combine November and December for the Winter Holiday pages. This may become the pattern as we are hard pressed to turn out the volume we do every month, plus there is a possibility we will be doing some new exploring of the possibilities soon!


Lots of masks to color and play with for Halloween and many new puppets. We can't help exploring the what if's, what if we try and why not? That, of course, leads to surprises as new figures emerge and new ideas tumble in on top of them! Hm-mm, I wonder what the turning of the season is going to bring? Are you ready?


I just wanted to tell you, when we fly somewhere Wart looks to be having a disconcertation (that is a Wart word), but he's honestly not going anywhere, is he? It's all in his imagination, isn't it? I do the flying thing with the lad hanging on for show when actually I get us where we're going by just snapping my fingers, blowing on the thistle down and we're relocated (so to speak), in a leapfrog. Now, if it were just so easy for my human folk!


Phee


Happy Halloween!


July 2007 Happy Summer!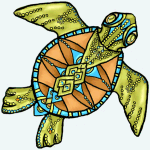 Truly, I am part mermaid! I spent my younger years in the pacific ocean almost every day, swimming and diving and dreaming. Or were those dreams? It seems to me every creaturely that humans say are imaginative are there just waiting to be seen. In fact, it was in the sea that I learned to swim and deal with the currents and waves and always felt safe, knowing that the creaturely guided me. The strangest thing is my taste for sea water, not a lot, just a taste, scooped up in my hand. It is a nectar of profound meaning deep within me, a bonding with the great surging luminous life of the sea.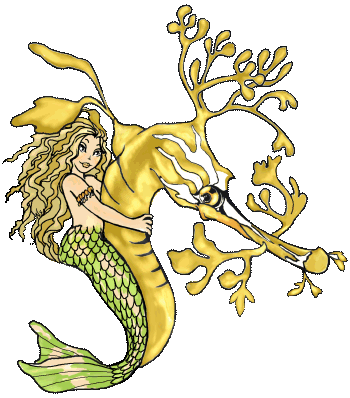 Now that I am older the sea within offers me unknown gifts, visions that I happily try to make pictures of. Happily because the imagination offers me light wondrous and sometimes humorous ideas. My drawings will never be grand enough, never. I share them with you, as a vehicle for the visions which are living and too great to be contained. They flow on, moving to touch others, inspire, to move you to your own endeavors. Do not be afraid to see what is in your own imagination and to try and draw it forth in your own pictures. Every attempt is worthy.


The Mermaid Chair, Mermaids and a Treasure Chest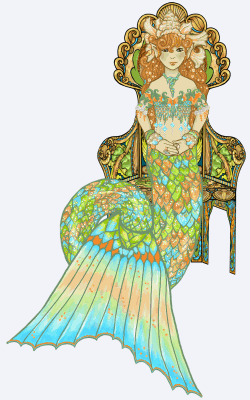 The sketch and the original rough model for the Mermaid Chair and the tiny mermaid to sit on it, have been sitting on my drawing board for a year. It is important to get at least a sketch on paper no matter how messy. It is not important to make a perfect drawing. Just get part of the images down or they will slip right away, back into the sea.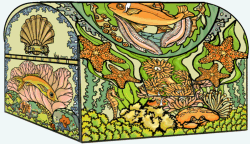 So for a year this little chair and mermaid have been companion to me (she sings sometimes and swishes her snaky tail), and then an image of a little treasure chest arrived and I felt it was time to apply myself to the task.


Yes! It is a task! This is where the work truly begins and then at some point must be called done, even though it can never be called, finished! A friend for Tilo arrived peeking around, watching, smiling hopefully. I sketched her and soon found she moves her tail enough to make you giggle.
The image of Neptune popped up, waving his trident and issuing orders I couldn't quite hear. I thought possibly at some hidden time he had brought forth the necessary energy to do these projects. Yes, there he is. Ah, I hear him now, he is racing to one of his mermaid daughter's birthday parties, and he is late as usual (he is a very busy fellow). I see he is helped along by seals, turtles, sea gulls, dolphins and mermaids to deliver a pretty little chest that looks somewhat like mine. Hmmm, I wonder what is inside of his?

Our thanks to school teacher Eric for his sharing the Kissing Fairy enlarged and beautifully painted for his classroom. Also thanks to Rachael for sharing her brilliant color work. Many of you, from all over the world, have sent us wonderful e-mails, all of which we are so grateful for. Those who have written but did not have a return address or an incorrect address I thank you as well for all for taking the time to let us know you care about us and the art we share with you.


June 2007
A meadow fairy lazes comfortably in an old throne like tree stump. Underneath her seat is a neat hidey hole for a baby dragon to sleep on a soft bed of mosses. He snores softly, adding his voice to the music of the meadow.
The nearby river is a vibrant bass undertone to the winds rhythmically strumming tunes on the wildflowers and tall grasses. Meadow divas warble and trill, insects zip and buzz, flutter and whir, each with its own distinct instrument of music, each responding to the whole to create the meadow symphony.
What story is that small butterfly person telling the fairy? It is certainly gossip passed through the network of creatures and plants in the meadow. Let us lean in very very close and try to hear what she is saying.
Ah! I hear it now, oh my! Butterflies are sometimes very hard to interpret. It seems that in the dark and dim (meaning the night, I suppose), there was an uncanny bobble( a what?), then a very loud smash, an even worse crash and Beaver's dam went entire down the river in a dash.
He is now weeping by the gleaming (I believe she means the river), and needs the gentle touch of a fairy to pacify.
Poor Beaver. May a rainbow kiss his cheek. It sounds like the giants were bowling boulders upriver again.
The clouds tell us secret stories in their passing. Sometimes we get a glimpse, wondrous creatures, dragons, giants and an occasional fair maiden. Do you think the clouds lie?
Water tells us secret stories too and they can be very familiar, like a memory we can not quite recall. Our bodies seem to know these stories very well, as if, as if we are truly a part of this wonder, part of the secret.
I think we would be much friendlier toward each other if we could remember that we are each as magical as a fairy, as magnificent as a dragon, as fearless and honorable as a dragon rider.
If you should suddenly remember, which would be a great and momentous occasion, don't allow anyone, ever, to try and make you believe anything different, not ever.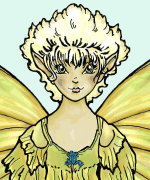 We have added a new fairy to our craft pages. Flicker is a forest fairy. The fairy puppets seem very popular so let us know what you like and we can try to add more of what you enjoy!


May 2007 letter from Nea Wiseman
Our heartfelt sympathies to the families, friends, and fellow students of those who lost their lives in the terrible event at Virginia Tech. It is a true mystery why these events happen and we can only bow to the greater powers that be and open our hearts to love and healing.
We would also like to extend our support to those loved ones who are fighting this strange "street gang war" in the Mideast. Our grandson is in Baghdad as I write and we have a constant vigil of prayers to keep him and others alive and safe.
On a lighter note I would like to say a fond hello to the red dragon who sent us the nicest e-mail but didn't give us a return address. We try to answer all e-mails and will, if you send along an address. And to the red dragon....yes! We certainly do believe in you!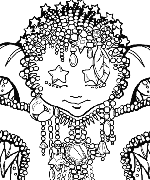 Phee has requested an Angel for darktimes, for those of you feeling afraid or worried about the events going on in the world, especially when you wake up in the middle of the night. So I have created a little angel you can color and cut-out if you have card weight stock. If not, you can glue the angel to cardboard and cut off the excess cardboard when dry. If you are going to hang it, glue another angel on the blank side and make a neat hole in the head. String with a pretty ribbon by your bed. You could also take some glitter glue and make bright dots of it in the beads so they catch the light. I have called the little angel, Spirit of the Midnight Moon. When you peek from under your blanket into the darkness and imagine monsters, you will know that the little angel is there to protect you.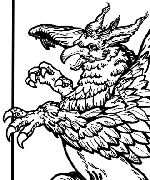 We have had many requests for some guy stuff, sorry guys! The Griffin is for you, but remember, when you are around a Griffin you cannot tell a lie! Send an e-mail and let us know what else you would like to color.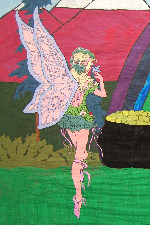 If you look in the section of drawings colored by you there is a new one of the castle fairy. This was done by a first grade teacher, Eric Drake. He photocopied the drawing onto a transparent sheet and then projected the image onto a mural sized piece of paper and traced it, then painted it with tempura paints. It is about 4 feet tall and is hanging in his classroom. He says the kids love it. Thanks for sharing Eric. We love to receive e-mails from people telling us how inventive you can be.

We have a new puppet we call the Mayfly Fairy because she is really tiny and flits around and over the water so much you have probably seen her and thought she was a real mayfly.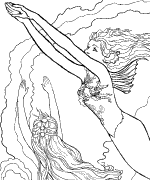 In Mermaid Lessons, the older mermaid is teaching a younger mermaids how to hold her hands to get the maximum speed in the water. She is probably telling the younger one secrets too, about where she can take a bubble bath and find pearls and tortoise shell to make combs for her pretty hair do's. Best of all she is telling the younger one how to get along on the reef and in the tide pools. To try and love and understand others and be helpful when it is needed.
As always I would like to express my gratitude to my husband Marshall for lovingly cleaning up my fuzzes and bringing constant new order to the website. Blessings to all! Nea
Reminder: Please remember that the images may have come magically from beyond but drawing them was the labor of love of a human being, me! The art is for you to color and enjoy personally, please do not exploit it in any way.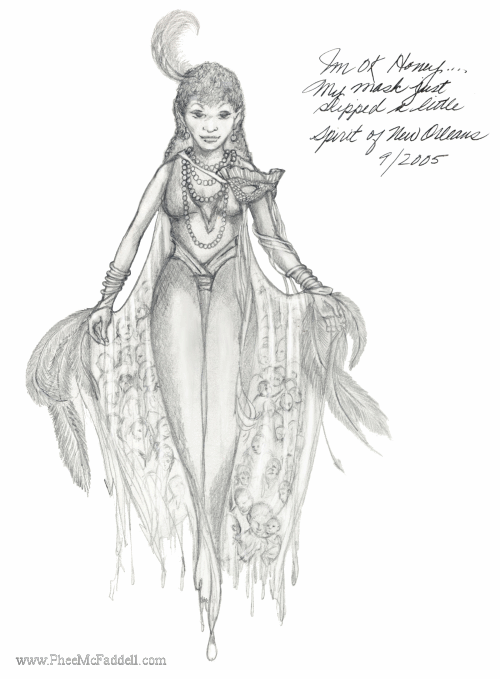 Sept. 2005 Spirit of New Orleans
What a terrible/wondrous week! I've been glued to the tube watching Fox News, grinding my teeth, crying, praying, and feeling the grief and frustration of the people who have suffered Katrina. I came completely apart when a mother holding her child said, "it's getting harder and harder to wake her up, I don't know what to do!".
It has been a real emotional seesaw. Elated when people are rescued, devastated and angry when they are not. Friday I finally dragged myself away from the TV and went to the grocery store, where everything, food, buildings, trees, flowers, animals and people were all vividly clean and bright, as if they were outlined in light, the same light I've been holding on those suffering in Louisiana. I could hardly imagine my own surroundings in such devastation, can't imagine these people, who are calmly going on about their lives around me, wading through toxic waste, parched, hungry and scared to death. Wake up call kid, remember this, every living minute of it right down in your gut, don't fall back into that somnambulate comfort.
Some huge energy is suddenly around me, above me, I'm trying to locate it for the sake of communicating the size of this Presence. I think it must be an angel, should I be drawing an angel? Sending out some message that's not even clear to me? Nah! This is probably hubris, ego inflation, like what I do on paper means anything.
The energy doesn't go away, I go through this same thinking round for several hours, over and over. Finally I grab my sketching journal and begin to draw.
I rarely see distinct images before I set my pencil to paper, it's all intuition and feeling, then wham, it hits me and I can hardly keep up with it. This wasn't any angel that I had ever drawn before, in fact, I wasn't sure it was an angel, but I decided to trust the feelings slowly defining themselves.
Then, well, it wasn't long before she told me who she was. Just a couple of short sentences in a soft voice, touching more like a gentle hand easing my heart than a sound touching my ear, saying, "I'm OK Honey. My mask just slipped a little".

About The ARTIST
The art work and stories of Phee McFaddell are created by Nea Wiseman. The design and creation of the web site is the work of Nea's husband, Marshall Wiseman. The artists live in San Diego, California and can be reached through phee@pheemcfaddell.com.
This page has been created so that the artists can occasionally make comments on issues concerning the Real World and answer questions that are directed more toward them than the fantasy world of Phee although, they will not guarantee that their answers will be any more rational.
Nea Wiseman: Phee McFaddell is my fairy godmother. She has acted as a representative of my creative unconscious for so many years I can not remember the onset. Even though Phee is only one of many many images that have come to me through the years to inspire and work with me she is certainly the most endearing and fun. Probably the most important function of this image is to lay the ghost. One does not spend much time groveling around in the pit of sorrow with Phee around. Oh, artists are allowed a certain amount of misery, this is apparently important to ensure that they thoroughly strip sorrow down to the bone, so that the unconscious has the raw material to work with.
I do not believe I create anything alone. I am a participant in a creative process whose meaning I do not completely understand but have stood by with an inexplicable and often undefendable intuitive knowing all of my life.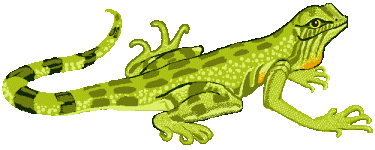 Marshall Wiseman: The pages of Phee's web site provide a simple backdrop for this wonderful art and many creative stories. Phee, it turns out, has a delightful range of friends from so many strange places, with such wonderful tales to tell. It's really fun to watch for the next new friend or adventure to come along. Marshall helps these adventures come to life on the web.
There are only a few tricks or animations in the site. We have added a cover-leaf over certain drawings such as in the story of 'Alisma the Water Nymph', or 'Snail Slime Tea' to allow the readers imagination to flower before revealing the drawings; much like turning the pages of a book. Some additional animation will also appear because the transformation of the individual within the story is so important. Otherwise, we keep it simple and let Phee tell her stories
We are always glad to hear from viewers and artist's who like the site and enjoy sharing our knowledge of web design with anyone interested. (You will find the site's source code well documented and simple to read.)
We hope you enjoy these pages, and that the stories and art stimulate your imaginations.
P. S. Please let Phee know you have enjoyed the site, pixilated beings are so much happier when they share being pixilated.
Thank You!
Marshall Wiseman
phee@pheemcfaddell.com

Send a note to Phee McFaddell
Phee's Home Page | Stories | Picture Books | Crafts | Coloring Projects

Who's Phee | Gallery | News Letters | Guest Book | Links | Comments

Search | Artist's Page | Phee's Coloring Book

© Copyright 1999 - 2009